In a recent video when pastor Ng'ang'a threatened to close all 'viosks'(Church) of Bishops under his ministry,it came to my realization that nowadays Churches are not places of worship but rather businesses to the so-called ''Men of God''.
What happened to those days when church was considered to be a Holy place? What happened when church was the place of respect? What happened to the church that was considered to be a place of comfort? Where are the Pastors, Bishops, Apostles, Evangelists and Teachers of word that were considered as a role Model to the Christians and people who do not know Christ?
Nowadays the  church is considered to be a business, where the leader of the church can speak in any manner he/she thinks,because he/she is not guided by the holyspirit.The good book says you shall know them by their deeds. The talk by the ''Man of God'' Ng'ang'a is just an example of the hypocrites that are hiding in the places of worship. May God help us.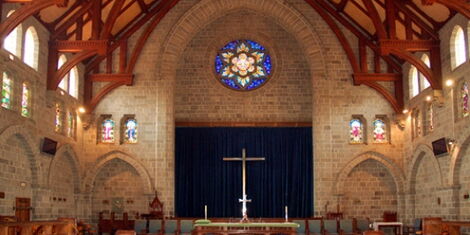 The ''Men of God'' nowadays love money to the extent of using every means to ensure that they harvest from innocent and blind congregation who are very thirsty of God's miracles and blessings.
Some of them use persuasive language of ''kupanda mbegu'', buying anointing oil, handkerchiefs, water, and recently there was a suggestion to the government to deduct salaries of Christians for tithes to go directly to the ''house of God''.
The ''Men of God'' don't really want to know where the money comes from,even if is got through unhonest ways,its money it will be sanctified when it reaches the ''holy place''.
I don't say that there are no true Men of God, they are there, Christians only need the spirit of discernment in order to differentiate the true and false prophets.